Course details
2 hours drinking all-purpose drink All 8 items Standard course of bowling crab and local produce steak 3500 yen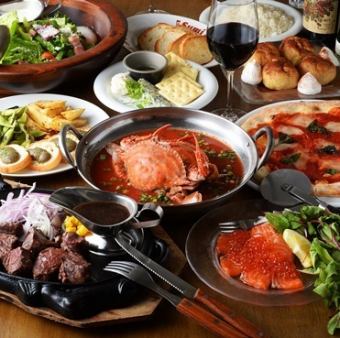 By using a coupon3500 yen
All-you-can-drink available

About 100 kinds such as Ebisu, sparring, authentic wine etc.!
Reservation deadline

Until 16:00 on the day before the desired store visit
Available days for reservation

Monday - Sunday - Public holidays - Holidays
"Recommended for banquets! As soon as we book your reservation ♪" Early Production Watarigani and Steak's Charcoal Rich Standard Course! All 8 drinks in 2500 yen All you can drink in all 80 kinds! All-you-can-drink 2-hour draft beer ♪ Cocktails and wines that women are happy Even the unlimited drinks!
Course menu
-----------------------------------------------
◇ Boiled soup of raw dairy crab
◇ Char-grilled teacup bucket ___ ___ 0
◇ Char-grilled bacon Caesar salad
◇ Char-grilled beef cattle steak
◇ Assorted appetizers 3 varieties
◇ How much bukkake fresh fish carpaccio
__Highball Margherita
◇ Assortment of dessert or cheese
-----------------------------------------------
All-you-can-drink menu
·【Highball】
· Duane's High Ball / Italian High Ball (High Ball + Blood Orange) Yuzu Hi Ball / Muscat High Ball
· 【Premium High Ball】
· Premium Ichigo Highball / Premium La France Highball / Premium apple highball
· [Sparkling]
· Lambrusco Rosso red / barrel filled sparkling / premium strawberry sparkling / premium la France sparkling / premium apple sparkling
· 【Wine cocktail】
· Operator / Kitty / Carimocho / Wine cooler / keel
·【wine】
· Rock Creek Red or White / Bonavita Red or White
·【sangria】
·Red and white
·【beer】
· Ebisu / Black Ebisu / Half & Half
·【Fruit wine】
· Tomato in red · La · Yuzu / La · Okinawa Sekkuwa - Sir / Big Peak Sake / Litchi
·【Non-alcoholic】
· Blood Orange / Fuzzy Navel / Tomato Orange / Cunyan / Apple Vinegar Sour / Peach Sour / Yuumitsu Sour / Muscat Squash
· [Shochu]
· Potato shochu / wheat shochu / shiso soju
Local sake
· Taniki Tanaki
·【sour】
· Premium strawberry sour / Premium apple sour / Premium la France sour / Grapefruit sour / Sour sea / Yuzuh Sour / Blood Orange Sour / Melon Soda Sour / Oolong Hi / Jasmine High / Lemon Sawa - / Grape Oroshi Sour / Afternoon Tea Unsweetened high
·【Cocktail】
· Mojito / Gin tonic / Moscommeureur / Chandigafuf / Red eye / cassis orange / cassis grape / cassis oolong / fuzzy navel / cuanyan / kalua milk / cassis milk / peach milk
·【Plum wine】
· Minami Takashi plum wine from Kishu / Umezuki plum
· [Hokkaido Sour]
· Katsugenhei
· 【Hokkaido limited milk high · Hokkaido limited soft drink】
· Premium Strawberry Milk Shochu / Premium La France Milk Shochu / Premium Apple Milk Shochu / Katsugen / Yuzu Katsugen / Peach Katgengen
· 【Body Reset Sour】
· Apple vinegar + plum wine + Umeboshi
·【Soft drink】
· 100% Orange Juice / 100% Grapefruit Juice / Oolong Tea / White Water / Pepsi Cola / Ginger Ale / Melon Soda / Grape Grated soda / Yuzumi Juice / Jasmine Tea / Hokkaido Milk / Afternoon Tea Delicious Sugars / Tomato Juice
2018/12/07 update