Course details
Generation 2 hours all-you-can-eat all 10 items Hokkaido enjoyment course 5500 yen ⇒ <By reservation until the end of December!> 5000 yen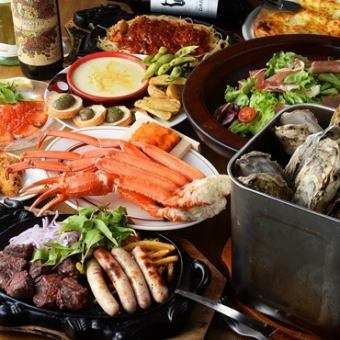 By using a coupon5000 Yen
All-you-can-drink available

■ About 100 kinds! Drinks all you can drink menu ■
Reservation deadline

Until 16:00 on the day before the desired store visit
Available days for reservation

Monday - Sunday - Public holidays - Holidays
"Recommended for banquets! As soon as possible ♪" Popular for company banquet ♪ All 10 luxury courses! All you can drink is all you can drink for 2 hours, including draft beer and sparkling wine for 2 hours!
Course menu
-----------------------------------------------
◇ You can choose the powerful pot!
Cheese Shabu Tomato Nabe
or
Bucket grilled oysters
or
Dry Arabiata pot of crayfish
◇ Charcoal snow snow crab
◇ Three appetizers with raclette cheese
◇ raw ham salad
◇ Char-grilled tea with platter Cheese and sausage platter
◇ How much bukkake fresh fish carpaccio
◇ Koki fly from Intellect
◇ THE Cheese PIZZA
◇ Choice of charcoal rich pasta
Raw sea urchin cream pasta
or
Spa and
◇ Another item you can choose!
Assorted dessert or cheese
-----------------------------------------------
All-you-can-drink menu
· Hokkaido drink
· Sake of Yogurt "Nicolle", Hokkaido Milk Shochu High, Hokkaido Limited "Yubari Mellon Sour", Hokkaido Limited "Yubari Melon Soda", Hokkaido "Katsugen" sake (Katsugenhei, Peach Katgen Hai, Yubari Mellon Katsugenhei), Hokkaido's soul drink "Katsugen" (Peach Katgen, Yubari melon Katgen)
·draft beer
· Ebisu Beer, Ebisu Black, Ebisu Half & Half
·Highball
· Dewar's High Bowl, Grape Grated Hi Bowl, Italian High Ball, Yuzu Hiball, Yubari Mellon Highball
·sparkling wine
· Barrel filling ☆ Sparkling
·wine
· Rock Creek (Red · White), Bonavita Rosso Red / Bianco White, Ramblasco · Rosso
·sangria
· Original home-made sangria [red · white]
·sour
· Peach Sour, Yuzu Sour, Blood Orange Sour, Grape Grated Sour, Yubari Mellon Sour, Oolong Hi, Jasmine High, Green Tea High, Charcoal Rich Body Reset Sour
· Premium syrup sour
· Strawberries, La France, Apples
·Cocktail
· Operator, Wine Cooler, Kitty, Keel, Kalimocho, Shandigafu, Red Eye, Mojito, Gin Tonic, Moscommeureur, Kalua Milk
·Cocktail
· Cassis orange, cassis grapefruit, cassis soda, cassis oolong, cassis milk, cuanyan, phagee navel, peach grapefruit, peach soda, peach milk
·Fruit wine
· Bright Red Tomato, La · Yuzuki, La · Sikhwa Sir, Big Peak Sake, Litchi Sake «You can choose from Rock · Soda Discount · Water Discount»
·Plum wine
· Black plum wine «You can choose from rock · soda · water split»
· Shochu
· Ichigo [potato], wisdom sword [wheat], fortune town [shiso] «You can choose from rock · soda · water · hot water split»
Local sake
· Taniki Tanaki
·Non-alcoholic cocktails
· Blood Orange, Fuzzy Navel, Tomato Orange, Cougnan, Apple Vinegar Sour, Peach Sour, Grapes of Grated Squash
·Soft drink
· Coca Cola, 100% Grapefruit, 100% Orange, Tomato Juice, Oolong Tea, Jasmine Tea, Ice Coffee, Hokkaido Milk, Yubari Melon Soda
2018/12/07 update